New First-Year Student Bloggers: Meet Lisa
Our next first-year student blogger is Lisa, the rare Fletcher student actually looking forward to winter! She describes her path to Fletcher via Washington, DC, from her native Ukraine.
Hello everyone!
My name is Lisa, and I am a first-year MALD student. I am excited to share my Fletcher experiences with you!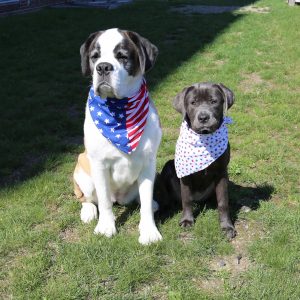 I was born and raised in Ukraine, and a little over four years ago I moved to the United States. Before moving to Massachusetts, I lived in Washington, D.C. I have to say that I am really looking forward to a cold snowy winter, similar to that in Ukraine! In my spare time, I like going to the movies (my husband and I are big Marvel fans!), traveling, listening to music, learning languages, and going on adventures with my two dogs – a five-year old Saint Bernard named Bella and a nine-month old Cane Corso named Nala.
I started my journey to Fletcher back in 2011, when I was accepted to Taras Shevchenko National University of Kyiv. I have always been passionate about studying languages and learning about new cultures, therefore I chose translation from Spanish and English into Ukrainian as my major. It might surprise you, but yes, translation is a major in Ukraine! After two years in Kyiv University, I realized that translation and interpretation was not exactly what I wanted to do in the future, but I decided to continue my studies since I was already halfway to earning my degree.
My plans changed dramatically in the summer of 2014, when I came to Washington, D.C. as a Work & Travel program participant. I was fascinated by the cultural and linguistic diversity of Washington, D.C., and I was lucky to visit many beautiful places outside of the area. That summer I also met my husband Steven, who has been incredibly supportive of all my academic endeavors ever since. I decided to stay in the United States, going through various bureaucratic processes to change my visa, and ultimately leaving my studies in Kyiv behind.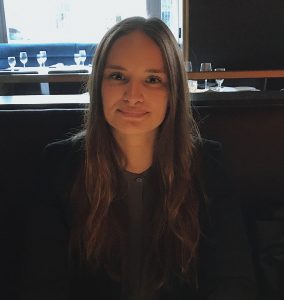 After deciding to stay in the US I tried a few different work positions before I came to the conclusion that I should go back to school and finish my degree. I started by taking classes at Northern Virginia Community College (NVCC), and I found the American education system amazing. Back in Ukraine, I never had the option of choosing my own classes and designing my own schedule, nor could I add or drop classes after the semester had already begun. After three semesters at NVCC, I transferred to George Mason University (GMU), where I majored in Global Affairs with a concentration in Global Governance. I graduated from GMU in May, and now I am here, at Fletcher!
During my senior year at George Mason I was interning at the U.S.-Ukraine Foundation, a small NGO based in Washington, D.C. The Foundation gave me invaluable experience, new connections, and taught me to better manage my time. I helped organize events, managed the organization's social media accounts, wrote articles for its newsletter, and attended events dedicated to U.S.-Ukraine relations.
Now that you know about my academic path, you are probably wondering why I chose Fletcher. The answer is simple: The Fletcher School is amazing! There is a strong sense of community, and every single person at Fletcher is here to help you succeed. The school has incredibly vast resources for research, fantastic events, and extraordinary people of so many different cultural, academic, and professional backgrounds!
Thank you for reading my first blog post! I am looking forward to sharing my Fletcher experiences with you!