There's so much going on at Fletcher, particularly during the last few weeks of the academic year, that it can sometimes feel difficult to keep up. It's certainly impossible to highlight on this blog every newsworthy item I come across. A few bits of news from the past month or so, unmentioned until now in this space, that are well worth highlighting:
Professor Daniel Drezner recently reviewed People, Power, and Profits: Progressive Capitalism for an Age of Discontent, the latest book by Nobel Prize-winning economist Joseph Stiglitz, in The New York Times.
Also in The New York Times, Professor Sung-Yoon Lee wrote an analysis of North Korea's latest round of brinkmanship.
Fletcher graduate (and former Admissions Office student worker) Jason Taylor, now with USAID, sat on a panel at the Center for Strategic and International Studies on a discussion titled "Zimbabwe's Burgeoning Food Crisis."
Visiting Professor of International Law John Cerone spoke with the Christian Science Monitor about the U.S. withdrawal from the Arms Trade Treaty.
Speaker of the House Nancy Pelosi, along with Congresswomen Katherine Clark and Lori Trahan, visited Tufts for a tour of the Eliot-Pearson Children's School, affiliated with the Eliot-Pearson Department of Child Study and Human Development, and a focal point of education research at Tufts.
Congresswoman Ayanna Pressley spoke at Fletcher in an event sponsored by the Jonathan M. Tisch College of Civic Life.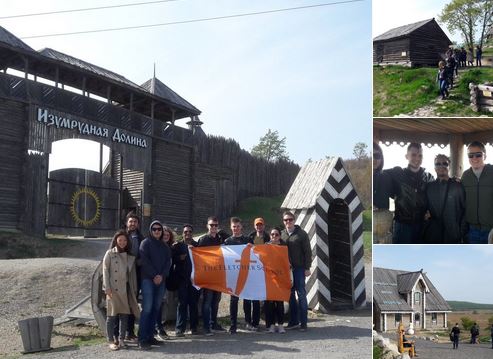 Finally, students traveling with Fletcher's Russia and Eurasia Program spent some time touring Ussuriysk, near the Chinese border, and then headed to Vladivostok for a series of meetings and policy workshops.