Updates from the Corruption, Justice, & Legitimacy Program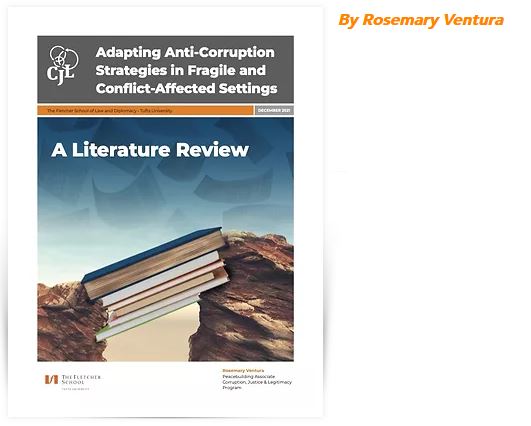 Regular readers might have a bit of familiarity with the Corruption, Justice, & Legitimacy (CJL) Program, a great example of the different ways current students get involved in research projects at Fletcher outside of the classroom. The CJL is housed within the Henry J. Leir Institute for human security, one of Fletcher's many research centers. Among many other pieces of output, CJL maintains a "Corruption in Fragile States Blog" that I like to highlight from time to time. We bloggers have to look out for one another!
Current student Rosemary Ventura recently let me know of a paper she's published at CJL on anti-corruption strategies in conflict-affected areas. Last summer Rosemary shared a bit about her work with CJL, and it's a pleasure to learn that it continues in substantial fashion. For the prospective students among our readers, my hope is that this underscores a fundamental point I find myself often repeating: Fletcher (and grad school in general) is about a lot more than taking a bunch of classes. That's obviously a core feature, but the true richness of the experience here comes from combining work in the classroom with all the other pursuits students get involved in. Scholarly work via Fletcher's research centers is a great example!