Today we'll check in with Sapna, finishing up her time at Fletcher. As you'll see, she picked the perfect time of year to visit Washington, DC.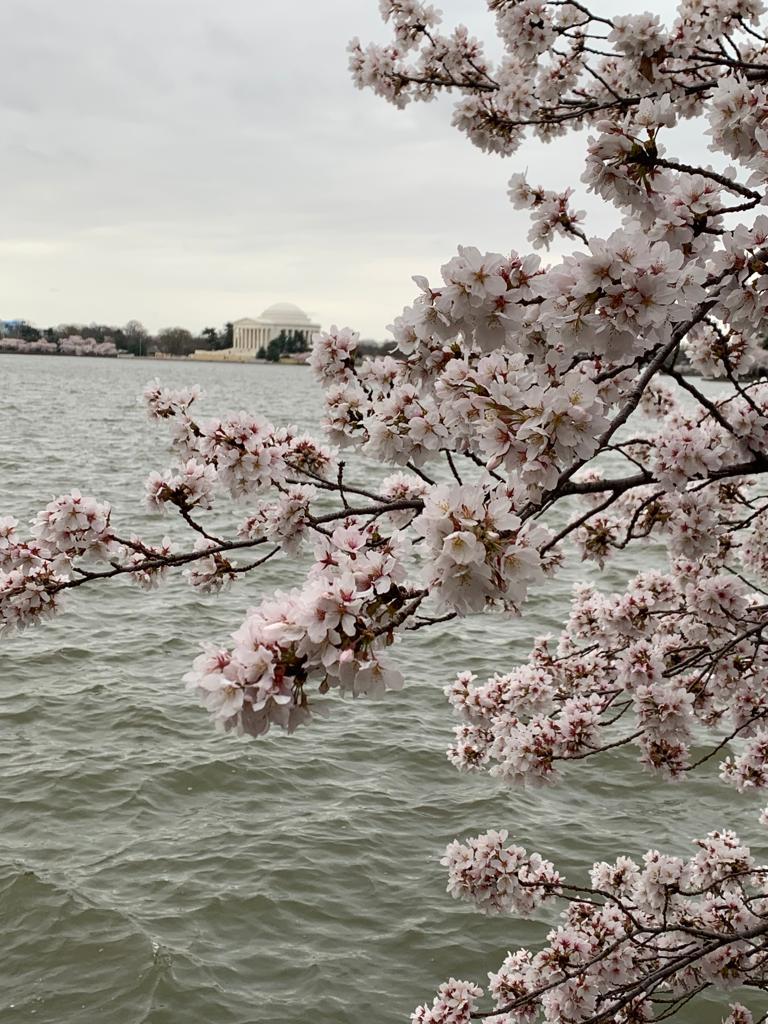 I finished all my coursework in December – it was bittersweet to attend my very last Fletcher class. This semester, I am writing my capstone, acting as teaching assistant for two classes, and searching for a job. How hectic could it be, right? Except that it has been my busiest semester so far! Thus, I welcomed the opportunity to pause work and head to my favourite city during Spring Break. I had interned in Washington D.C. in summer but had never seen the gorgeous capital during spring. So, going back for the Cherry Blossom Festival was a no-brainer.
I stayed in Old Town Alexandria in Virginia, a stunning historic district with colonial architecture and cobblestone walks. I loved seeing charming brick buildings with quaint cafés and theaters pass by while riding the overhead metro from Alexandria to Washington D.C.  During my first two days in Virginia, I unwound by hanging out with an old friend. We went to the local theater to watch Death on the Nile, a Hercule Poirot movie, and Infinite Storm, a film about a woman's single-handed mountain rescue operation during a blizzard. My friend introduced me to the restaurant chain &pizza, which serves the most amazing food and drinks! Nearer home, they have a branch in Harvard Square, the only location in Massachusetts so far – the American Honey pizza with arugula is particularly recommended.
On my third day, I went to check some universities in and around D.C. to potentially apply for a PhD post-Fletcher. Thereafter, I headed downtown near the White House. I visited a tourist gift shop that made my wallet considerably lighter: among other things, I purchased an embellished tee depicting pale pink cherry blossoms and famous city monuments. Then, I walked along Pennsylvania Avenue, a broad, tree-lined road flanked by important buildings, and reached the Greek revival-style National Archives Building. The highlight was sitting near the steps of the Archives and enjoying mango shaved ice as dusk slowly settled over the capital city. The view of the National Gallery of Art, Smithsonian Museum, and Washington Monument against the setting sun put me in a contemplative mood. Birds flew high over the U.S. Capitol. A few cherry trees had already started flowering along the National Mall.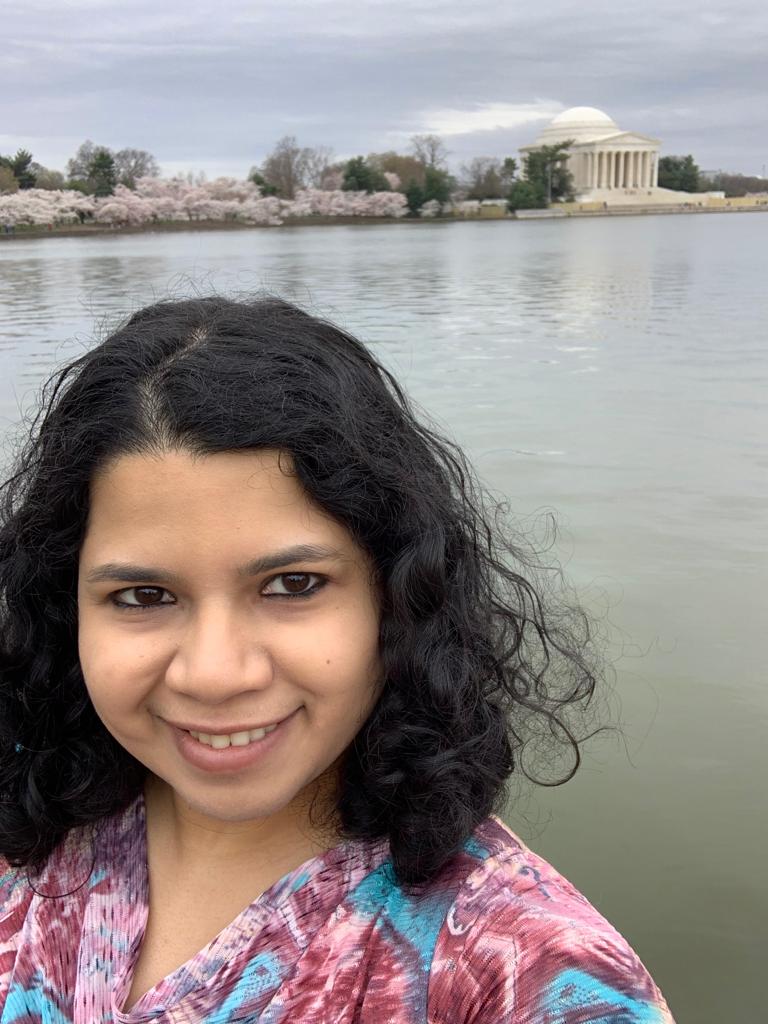 The next day was rainy but that did not deter me from seeing one of the country's largest cherry tree collections. The walk from Washington Monument to Tidal Basin was nothing short of spectacular, with delicate blossoms framing the pristine white Jefferson Memorial. Walking under the canopy of white and pink flowers, I reached the Japanese Pagoda, Roosevelt Memorial and Martin Luther King, Jr. Memorial. Thereafter, I went to historic Georgetown where I waited in a long queue up the hill for the immensely popular Georgetown cupcakes. Seeing the Ukrainian embassy nearby – with the sidewalk overflowing with flowers – was sobering, and a reminder of why we study IR. Finally, strolling along Francis Scott Key Memorial Bridge, I reached Rosslyn, a neighborhood with taller buildings than most of the city. I ended my day with – you guessed it – another meal from &pizza!
My last day in Washington was reserved to revisit places that feel special to me. This included Observatory Circle (which boasts the U.S. Naval Observatory and residence of the U.S. Vice President) and Woodley Park (home to Smithsonian National Zoo). I also saw the majestic Washington National Cathedral, which is built in the Gothic style and offers a panorama of the city. I stopped for lunch at Taco City in Woodley Park where I received the best customer service ever, and for a refreshing matcha bubble tea at Möge Tee (which also has a branch in Cambridge, Massachusetts). I ended my day in Georgetown's best kept secret – Dumbarton Oaks estate and garden. The beautifully terraced gardens especially come alive in spring when one of the sections, Cherry Hill, is covered every inch in a shock of pink. I spent many blissful minutes lying on the grass, looking up at light filtering through the trees, while cherry blossoms fell all over me.
I could have stayed there forever but it was time to say goodbye and go home. The final stretch to graduation – my last month at Fletcher – is still hectic, but it has been made somewhat easier by memories of a relaxing Spring Break. Now, I am waiting for warmer weather in May to explore museums and trails in Boston.