Student bloggers: Sapna wraps up her time at Fletcher
Today we'll check in with Sapna, dotting the i's and crossing the t's of her Fletcher student days.
As my Fletcher journey is coming to an end, I want to celebrate everything I did here. Since the pandemic disrupted the regular flow of courses and activities, I am going to list my classes by theme in lieu of an annotated curriculum by semester:
Degree: MALD
Fields of Study:
1) International Political Economy
2) Marketing
Courses: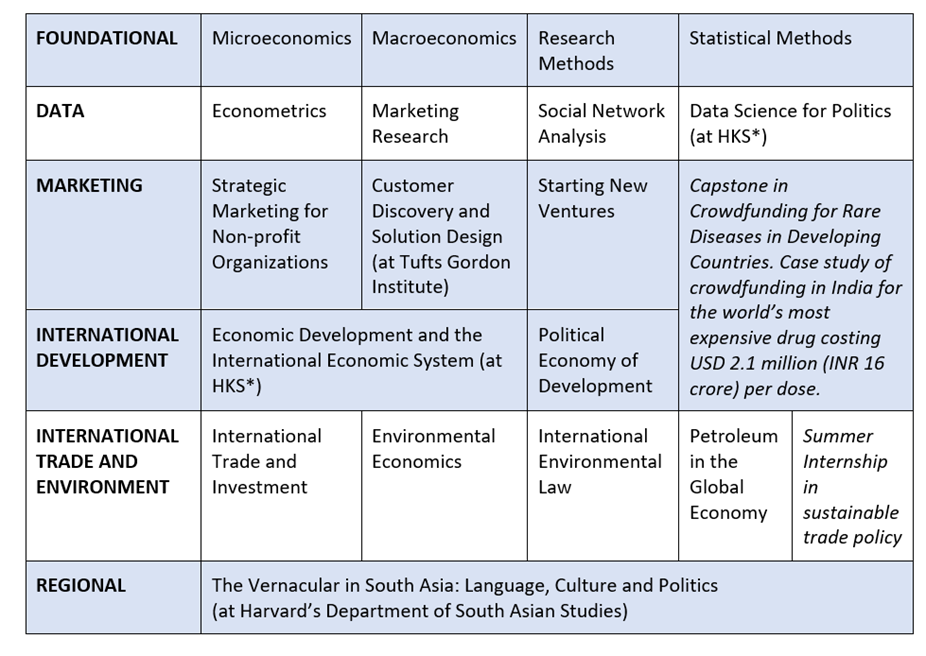 *HKS = Harvard Kennedy School
On-campus jobs and extra-curriculars:
Diplomats' Ball Organizing Committee Member – In my first year, I helped run bake sales to raise funds for the Diplomats' Ball and was told I am good at selling 😊. During my final year, I was part of the core committee as Team Leader for Marketing. I noted what information was required by the committee to plan the event, designed and managed student surveys, and presented survey results to the committee. It was also my team's job to write eye-catching promotional emails and advertise the event to students and alumni on social media.
Admissions Interviewer and Ambassador – I enjoy learning about people and hearing their stories. So, conducting admissions interviews with prospective students to understand their life path and motivation to attend Fletcher, and holding coffee hours to answer their questions, was a fulfilling job.
Teaching Assistant (TA) for four courses:

Market Research and Analysis
Economic Theory and Policy
International Trade and Investment
Advanced International Trade and Investment

I have been a TA for all class modalities: in-person, hybrid and online. Professor Carsten Kowalczyk first believed in me and gave me a chance to be a TA for three of his classes. I was also a TA for my favorite class at Fletcher – Market Research taught by Professor Bernard Simonin.
Graduate Consultant for Fletcher Social Investment Group (FSIG) Project – FSIG, a student-run club, partners with social ventures for semester-long consultancy projects. In a team of four, we conducted a market research study for a Beninese social enterprise that combats environmental pollution while generating local employment.
Team Leader for Harvard Law and International Development Society (LIDS) Consultancy Project – LIDS projects are similar to FSIG consultancy projects, but with collaboration of graduate students from Harvard, Tufts and Boston College. I led a team of eight students in writing a white paper on sustainable trade for an organization in D.C. I also got my summer internship at the same organization. I didn't even have to interview as they were already familiar with my work. Sometimes, student club activities lead to bigger things!
Fletcher Liaison for Harvard LIDS – In my second year, I was part of the LIDS Executive Board in the role of Fletcher Liaison. I disseminated information about LIDS consultancy projects, events and vacancies through online information sessions and promotional emails.
Note taker for Student Accessibility and Academic Resources (StAAR) Center – I was hired to take notes for one of the best classes at Fletcher – Microeconomics by Professor Tanaka.
Admissions Blogger – And finally, I am a student blogger and have fun writing about my experiences to help you, the next generation of Fletcher students.
Places from where I pursued the degree (as part of it was online due to the pandemic):
Massachusetts – 14 months
Texas – 3 months
Washington D.C. – 2 months
New Jersey – 3 months
Mumbai, India – 12 months
TOTAL: 3 years
Experienced multiple living situations while pursuing the Fletcher degree: living with immediate family (and my cat Tipsy who attended classes with me from midnight to 4 a.m. in India), with extended family, with housemates in two houses, as a paying guest, and alone in a studio apartment in D.C. Faced extreme uncertainty and fear of being stranded multiple times during the pandemic.
Vacations:
Mumbai, India (Winter Break 2019)
Fletcher Ski Trip – Sugarloaf Resort, Maine (Jan 2020)
Los Angeles, California and Las Vegas, Nevada (Winter Break 2021)
Washington D.C. for Cherry Blossom Festival (Spring Break 2022)
Activities at Fletcher:
Potluck dinners, parties, Fletcher WILD Club hikes to Middlesex Fells Reserve and Crane Estate*, Fletcheros** concerts at Davis Square, classical music concerts at Somerville Theatre and Goddard Chapel, snowball fights, yoga sessions, basketball games, culture nights, talks by guest speakers, student-led conferences, organizing student petitions, participating in social list debates, bidding for cool items at fundraising auctions, and many more.
* where a few scenes of Little Women (2019) were shot.
** student-run cover band
Non-Fletcher activities pursued during summer breaks: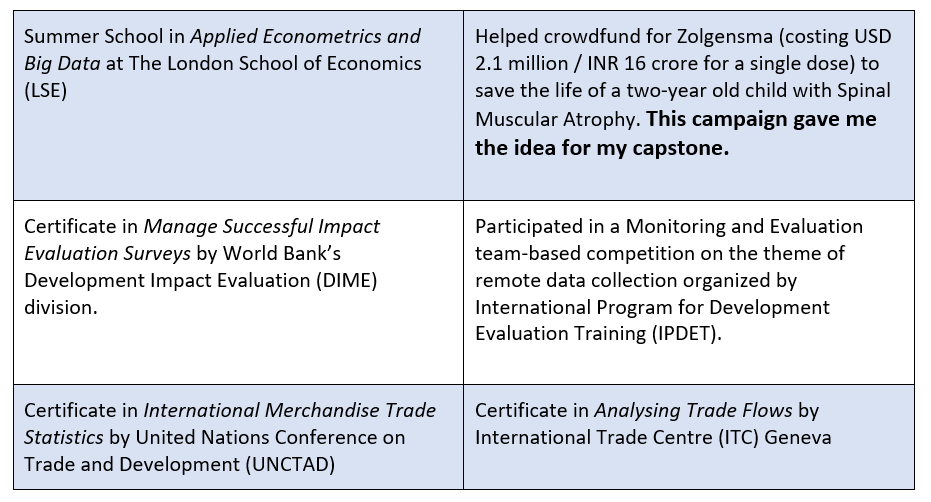 Final Thoughts:
I was fortunate to be taught by exceptional teachers like Professors Julie Schaffner, Shinsuke Tanaka, Amar Bhidé, Robert Nakosteen, Daria Boklan and David Wirth. I was also lucky to have two phenomenal mentors: Professor Kowalczyk (academic advisor) and Professor Simonin (capstone adviser). They believed in me even when I didn't believe in myself and spent long hours patiently mentoring me.
Fletcher stands out among IR schools because of its dedicated staff. They worked relentlessly to support students during the tumultuous changes of the last two years. I owe a lot to Katie Mulroy at the Office of Student Affairs, Nora Moser McMillan and Andrew Marx at the Registrar's Office, Laurie Hurley and Dan Birdsall at the Admissions Office, and Reiko Ohmura at the Tufts International Center. They helped me obtain reduced course load, navigate online classes, and change direction midway during the degree. Jaime McAllister-Grande at the Office of Career Services made me feel good about myself and perfected my resume, preparing me for life after Fletcher.
The next few months are very scary and uncertain. But I got through Fletcher, one of the best IR Schools in the country, and that is worth celebrating! Hopefully, for the next cohort, things will be back to normal and you can experience Fletcher and Greater Boston in all its glory!