I just sent off the Student Stories blogger crew for 2017-18, following our annual gathering.  Back to studying and paper-writing they went, following the only hour of the year when we all come together.  Six of this year's seven bloggers were able to attend.  Here's the group:  Pulkit, Adi, Mariya, Prianka, Akshobh, and Gary.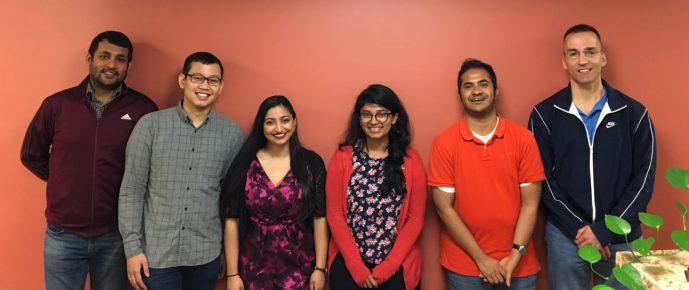 I had hoped we had picked a time when everyone could come, but schedules are very unpredictable this time of year and Kaitlyn was unable to join us.
It is truly a joy to work with these writers.  They have all volunteered their time for at least one year and whether they blow right past a deadline or submit a post on time, I never take for granted their generosity!  I'll miss working with Pulkit, Adi, and Mariya, who are graduating after two years of blogging, as well as Prianka who will complete the one-year LLM (and her blogging commitment) this month.  I hope (expect) to welcome Akshobh, Gary, and Kaitlyn back for another year of writing in September.
One additional note.  I'm not the only one who appreciates these folks.  They've all been busy with multiple commitments throughout the year.  I'd like to highlight, though, that Pulkit recently received the Presidential Award for Civic Life, one of the University's highest honors for students.  I'll let Pulkit tell you more via a tweet.
Congratulations, Pulkit, and fellow graduates Mariya, Adi and Prianka!  Thank you to all the student bloggers for your help all year!