Barnum Hall, officially facelifted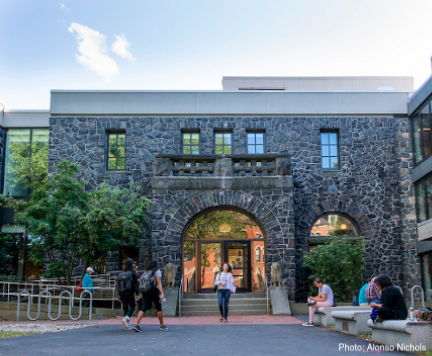 Barnum Hall is one of the older and more storied buildings on the Tufts campus. Donated to Tufts in the late 19th century by that Barnum, it's been known as the Barnum Museum of Natural History, and more recently as a center for biology and associated lab space on campus. It also used to house the Greatest Showman's famous elephant, Jumbo, hence the Tufts mascot.
Barnum now enters a new era, fresh off an extensive renovation that's brought a variety of upgrades to its physical plant. It also welcomes a number of new tenants, among them Fletcher's Center for International Environment and Resource Policy (CIERP). We're excited for our CIERP friends and their shiny new digs, and glad that it's a move that only takes them across a small street from the main Fletcher complex. On a personal note, I'm also happy to see the the return of my favorite bench on campus, which has been off-limits behind the construction line for over a year now. Shaded in the summer, a bit away from the most high-traffic areas of campus, it's the perfect spot to enjoy a bit of a screen time break at lunch. I'm happy, CIERP is happy, and most of the rest of Tufts is happy…sounds like a win all around!