As he experiences the joys and pains of his first Fletcher reading season, Nick has the honor of continuing a very important Admissions Blog tradition: the reading day post! Like most application readers past and current, he makes sure to strategize ways to stay fresh in order to get through the workload. Unlike most readers, though, he has the background to generate an artisanally-curated playlist to sustain him through the day. And if that doesn't work, well, there's always an adorable baby on call to help out…
Now that we're squarely in the reading season, it's my turn to write a Reading Day post! We have many hundreds of applications to sort through, each being read carefully by multiple readers. To accomplish this, during reading season each member of the Admissions Office takes a day a week from home to read. Reading from home is great. You're removed from distraction — no one is dropping in to ask you for something. You can get your day going earlier and work later — no commute. And, you're comfortable — my home furniture beats my office furniture every day of the week. It allows us to focus on the reading and be more productive, giving each applicant our undivided attention.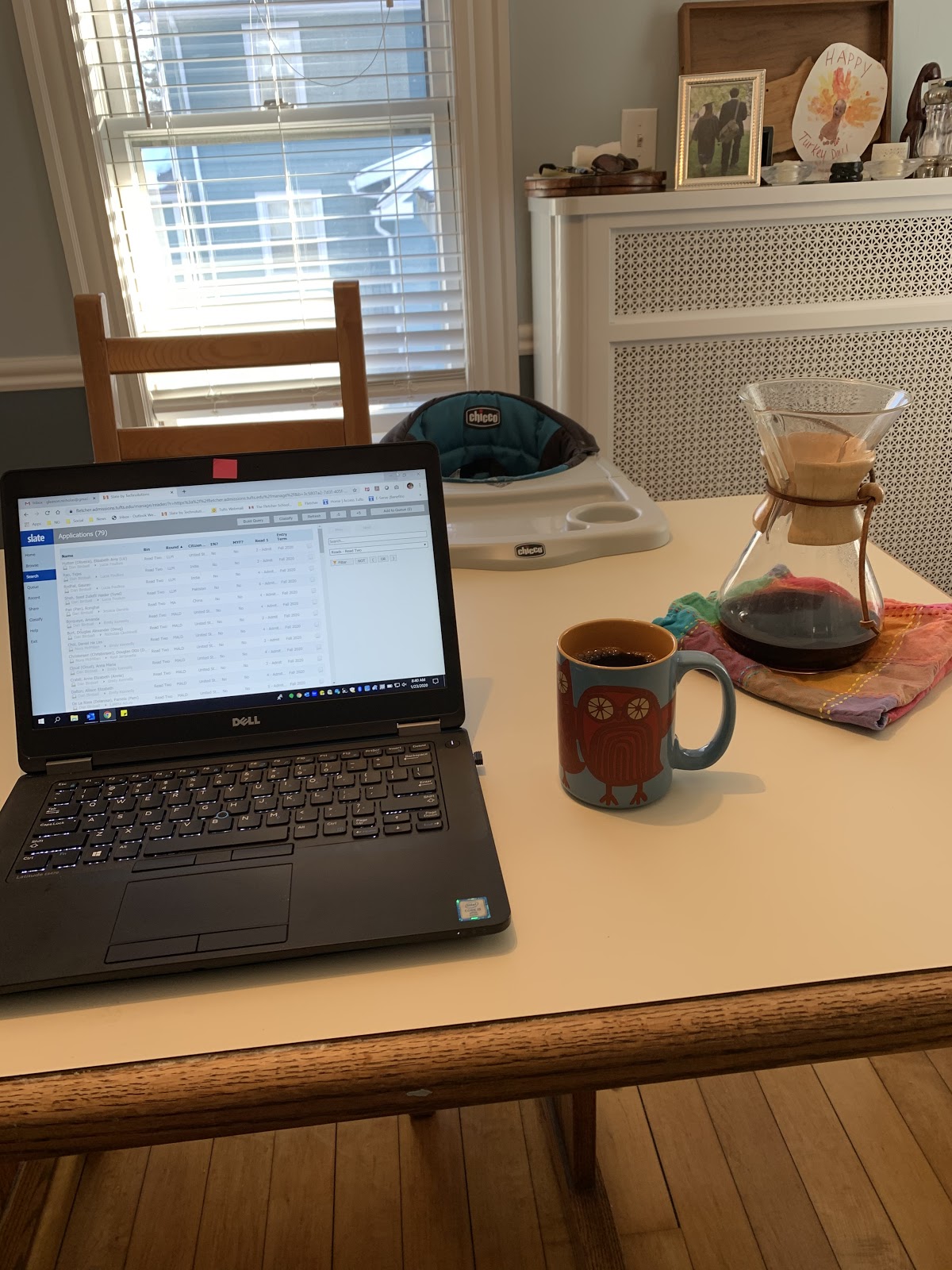 In perusing past Reading Day posts, I noticed the tendency to organize a day around either a warm beverage or a pet. While I certainly take the warm beverages seriously (I brought out the usually-reserved-for-weekends-because-it-takes-too-long-for-a-weekday Chemex), and of course took the snacks seriously (breaking up the day with a trip to the store for some nice bread and fancy butter – the simple things!), I logically structured my day around a playlist.
Having taken music seriously for most of my life, I've developed a particular approach for listening while working. I try to avoid lyrics, so mostly classical and jazz, and avoid things that are going to yank my attention out of the work, avoiding the things I like most – 20th and 21st century classical music and avant-garde jazz from the 60's and 70's. I settled on an old favorite for the morning, a full cycle of Brahms symphonies recorded by the Cleveland Orchestra with George Szell. After lunch, it was time for a change and something a little more esoteric, the late ecstatic music of Alice Coltrane (John's widow) and some drone music by French guitar duo Natural Snow Buildings. If you need some good music to aid concentration check those out!
It wound up a great reading day. The longer I spend at Fletcher the more I am impressed with what you, our applicants, have already accomplished before coming to grad school. It's a joy to read the essays of such a diverse group of people, so many of you having done tremendous things already. I can't wait to see who arrives in the fall!
An addendum: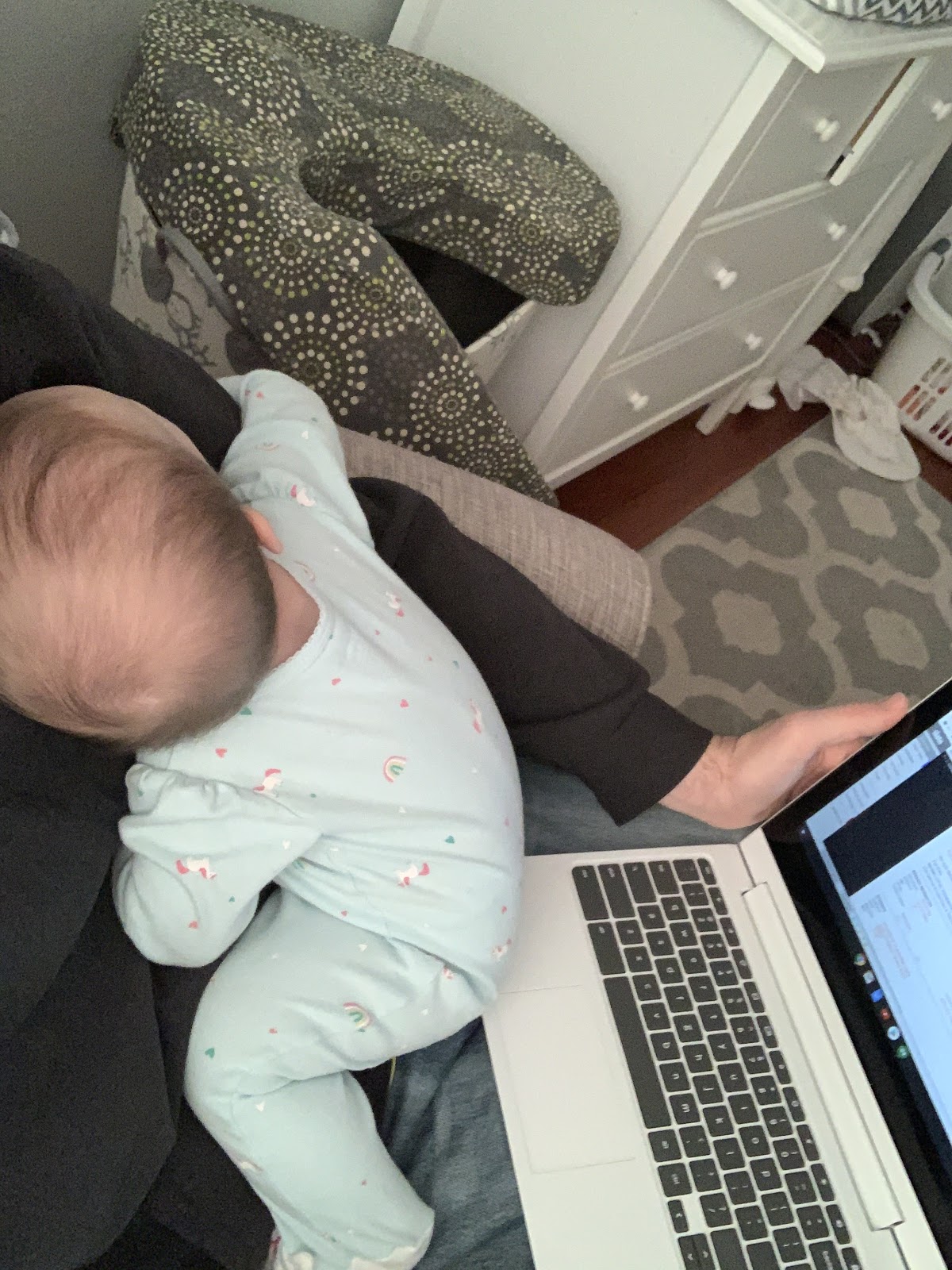 As mentioned previously, reading from home can be a wonderful way to be more productive; one doesn't have the distractions of a bustling office. That said, being at home also puts you on the front line dealing with any home distractions. A major distraction arrived for me recently when I received a call from our day care center: my 8 month old daughter was sick and needed to be picked up.
I went and grabbed her, wondering how I was going to get through the applications I had set aside for myself for that day. When I got home, I remembered that sick babies are frequently also extra cuddly, and decided to use that to my advantage. I'm inaugurating a new category of reading day structure to compliment the warm drinks and fluffy dogs: cuddly babies.
And, while it certainly wasn't the most efficient way to read, I still was able to read almost all of the applications I'd reserved for myself, and made up some after bedtime. Happy February!