Mohit's first year wrap-up
This is the time of year in which I'm amazed that our "new" students are already halfway through their time at Fletcher, and in which our newest graduates move on to the next stage of their careers. It's also a good time to check in with our student bloggers for a year-end wrap-up. We'll start with Mohit, who's been very busy this spring:
And just like that, my first year flew by.
Before I proceed, I hope you and your loved ones are hanging in there and staying safe during these turbulent times. A lot of crazy and heartbreaking things are happening around us in 2020. Though unrealistic, I hope reading this blog can provide you a break from all the chaos, anger, and uncertainty.
When Dan reached out to me for this end-of-year blog, I started collecting my thoughts similar to how I did for my last blog. But this time, I had a year's worth of memories to go through! So, I had more of everything to write about – courses, office hours, career treks, friends, fun activities, and the list goes on. Given the limitation to wrap-up my wonderful Fletcher journey using less than 1000 words, I decided to experiment with my new love for word clouds. I created one to provide a bird's eye view of my memories (and add some visual appeal). Like most of my friends, I have incredible memories connected with these glowing words. While the Fletcher Mafia may smile with nostalgia, prospective students can get some glimpse of life at Fletcher. And yes, the Fletcher Mafia is a real thing. The only thing dangerous about them, I have learned, is how accomplished and helpful they are.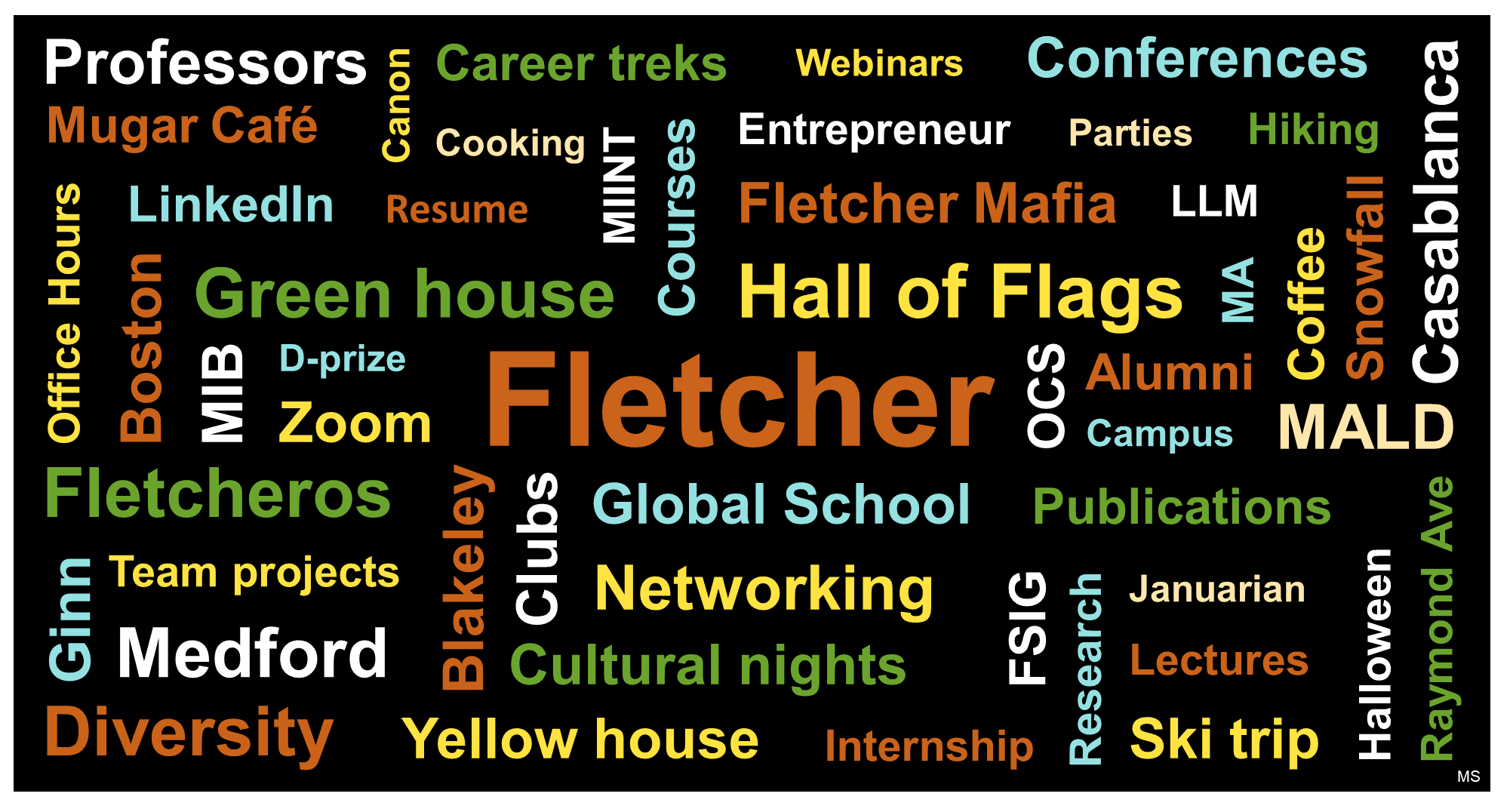 Multidisciplinary curriculum
I joined Fletcher to focus on impact investing and social finance. Like most, I have been selective in choosing my courses to pick new skills and expand my knowledge. Trust me, it is a herculean task to pick top four from the plethora of courses taught by world-renowned faculty. I consider Prof. Amar Bhide's Starting New Ventures as my favorite course from the fall term. He invites case protagonists for class discussions. How cool is that! I can finally say that I developed finance skills after studying Prof. Jacque's course on Corporate Finance. I still get goosebumps thinking about the cold calls with his all-time favorite phrase "Let's open up the conversation."
Being a winter lover, I adored the snowfall and freezing temperature, and like any true Indian, my ginger tea. In the spring term, I felt privileged to take Prof. Alnoor Ebrahim's course on Managing NGOs and Social Enterprises. Being an active social media user, it was an obvious choice for me to take Prof. Wolff's excellent course on Privacy in the Digital Age. It was no surprise that she received this year's James L. Paddock Teaching Award. I also cross-registered at the Harvard Business School to take a course on impact investing. This course broadened my understanding of the nuances of the investing space in the global context.
Like other schools, Fletcher also moved to online Zoom classes after the spring break. It has done a commendable job to replicate the in-class experience to a large extent. Of course, I miss meeting professors and friends, grabbing a quick coffee from Mugar, sitting in the Ginn Library, attending events, and living the student life. But I guess the funny frozen faces of people during a Zoom session are a small consolation.
Skiing, hiking, dancing, and networking…
The famous ski trip is quintessential to the Fletcher experience. Being adventurous, I loved skiing (and chattering my teeth) in minus 20-degree Celsius weather. And yes, I did fall a countless number of times. I really loved hiking in Boston and getting lost in the woods (which I did, literally).
As an Indian, it is hard to resist a chance to dance. And Asia night was so appropriate to dance barefoot on a medley of popular Indian songs. If you happened to witness it, all my mistakes were because I had to practice from videos, given everyone's packed schedule.

No matter how much you love it or hate it, "networking" becomes your best friend at Fletcher. And if you happen to forget, the hardworking team at OCS (Office of Career Services) will remind you of it. They facilitated networking events in New York and Washington D.C. The annual alumni reception in D.C was a testimony to the diversity and strength of the Fletcher Mafia.
Winning Fletcher's D-prize 2020
Before joining Fletcher, I was chatting with my best friend, Nitin (F'20), about participating in a B-plan competition at Tufts University. In the last nine years, we deliberated on several ideas. But finally, we went ahead with one – to create Resonance Lab, a solar energy start-up focused on rural communities in India. I am excited to announce that we won this year's Fletcher D-prize competition and received $13,000 seed capital. We planned to launch our pilot during this summer break, but the COVID-19 crisis has shifted our timeline.
Planning my summer break
Trying to stay true to what I came here to pursue, I have started my virtual internship with Impact Investment Exchange Asia (IIX). In the next few weeks, I will work in the impact value chain towards investing $30 million in impactful businesses in the Asia Pacific region.
With so much under my belt this year, the to-do list for the next one already looks long. With other co-presidents of Fletcher Social Investment Group (FSIG), I will source interesting consulting projects and speakers for the next term. There is the daunting task of picking courses for the next term. I have also set an ambitious target of publications for the summer, and I am off to a great start. I have also registered for various online courses to pick new skills for free. And learning Spanish is one of them.
For me, this is a much-needed summer break – to pause, introspect, and refresh before starting another intellectually stimulating year. I wonder where I will be next year at this time. But, right now, the sun is out, and the weather is appropriate. It is calling for another hike into the woods.
I will leave you with one of my favorite quotes by Robert Orben, an American comedy writer – "Time flies. It's up to you to be the navigator".
Until next time, stay healthy, stay hydrated.
Adiós (see, I have learned so much already!).
I'm always excited to share my experience and make new connections. You can connect with me on LinkedIn