From the Admissions Team: Advice from Lucia
While Lucia doesn't work directly in the Admissions Office, her work as the primary administrator of the LLM and MA programs means she's one of our close collaborators, creating something of a "dotted-line" relationship to our team. She's also that rare administrator who has extensive insight into both the admissions process as well as the day-to-day student experience at Fletcher.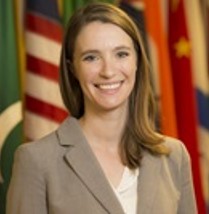 How to Find a Faculty Mentor in Grad School
A mentor—someone more experienced in your field and able to offer advice and guidance, is one of the best assets you can have as a graduate student. Whether you are starting off in a career, looking to make a pivot, or taking the step from early to mid-career, it is great to have someone to talk to who can help you navigate the next stage in your professional development. At Fletcher, those mentors are often found in our faculty, but finding and cultivating a relationship with a mentor takes time and effort. After six years at Fletcher, I've gotten to know a lot of students, and have seen many develop meaningful mentorship relationships with our faculty members. Here are some tips for how to do it well.
At the beginning of the school year: If you have a particular field of study in mind when you are starting graduate school, this is a great time to reach out to one or two faculty members who are working in your area of interest. You'll be assigned a faculty advisor by the Registrar's Office (and you should definitely meet with him or her), but you should also reach out to the other faculty members who best align with your interests for a meeting. Most faculty will have open office hours listed online or on the door of their office. Go ahead and sign up—share your background, interests, goals for graduate school, and get their advice. Now you've started the relationship, and as you need additional advice or are interested in opportunities they offer you already have a connection. Also to note, if you haven't done this at the beginning of the school year, you can do it at any time. I just recommend reaching out sooner rather than later so you have more time to invest in the connection.
While in a class with someone: When you're taking a class with a professor in an area that is particularly of interest to you, make sure you take the time to connect with him or her. Faculty have weekly office hours, and these are not just for students who are having trouble understanding the content of the course. Students who get to know their faculty members make the effort to drop by. You can ask about something covered in class but not discussed in depth, get advice about the summer internship search, or just ask the faculty more about their career development and the advice they would share. Given how many students faculty teach, the onus is on the student to take the time and effort to get to know their professors better.
When looking for on-campus work: Most people in graduate school could use a little extra spending money and having an on-campus job is one of the best ways to make it. Faculty members at Fletcher often have funding to hire research and teaching assistants. Working as one or the other can be a nice way to earn extra money and spend quality time working with a faculty member. These jobs can be posted on our internal jobs site, Fletcher CORE, or sent around to students via email. They also are sometimes offered without being formally posted. Students interested in working with a faculty member can visit their office hours and mention as part of the discussion that they are looking for work and would appreciate being kept in mind. It's also appropriate to send a polite email with a resume attached, letting the faculty member know that you are looking for work and would appreciate being kept in mind if an opportunity comes up.
Attending events and getting involved with extracurriculars: Faculty members have a lot going on outside of the classroom. Many lead research centers on campus, mentor student clubs or organizations, and host guest speakers. If you're focusing on a particular field, make an effort to get involved outside of the classroom. During the start of the school year many of the research centers on campus will host open houses. Be sure to attend and introduce yourself to the faculty involved, as well as the staff administrators, who often handle student hiring and other opportunities available through the centers. As events happen throughout the year, make an effort to attend. If you consistently show up to events relevant to your field, you'll get to know the hosts as well as the students and faculty attendees who share your interests. Finally, clubs and other student groups can be a nice way to get some experience and have a reason to work with faculty outside of the classroom. For example, students on our Jessup Moot Court team worked extensively with Professor John Cerone, one of the law professors at Fletcher, and also had practice sessions with other faculty, giving them the opportunity to get to know the law faculty much better than they would have otherwise.
Whether it is international law, human rights, security studies, gender, or one of the many other fields of study offered at Fletcher, there are faculty who have built successful careers in the field and have valuable guidance to pass on to students. It's normal to feel a bit shy about building these relationships but remember that one of the highlights for faculty and staff working at Fletcher is getting to know the students. Most faculty are as interested in getting to know you as you are in getting to know them. As a graduate student, taking the time to invest in these relationships is not only personally rewarding, but often very useful professionally—both when you're starting out and when you're progressing your career.