Almarie arrives at Fletcher for her second year
This will always feel like an unusual year, particularly for our returning students who are on campus for the first time. Almarie has jumped right in to the hustle-bustle, and it's a treat for us to see her frequently just across the hall from us during her shifts in the Registrar's Office: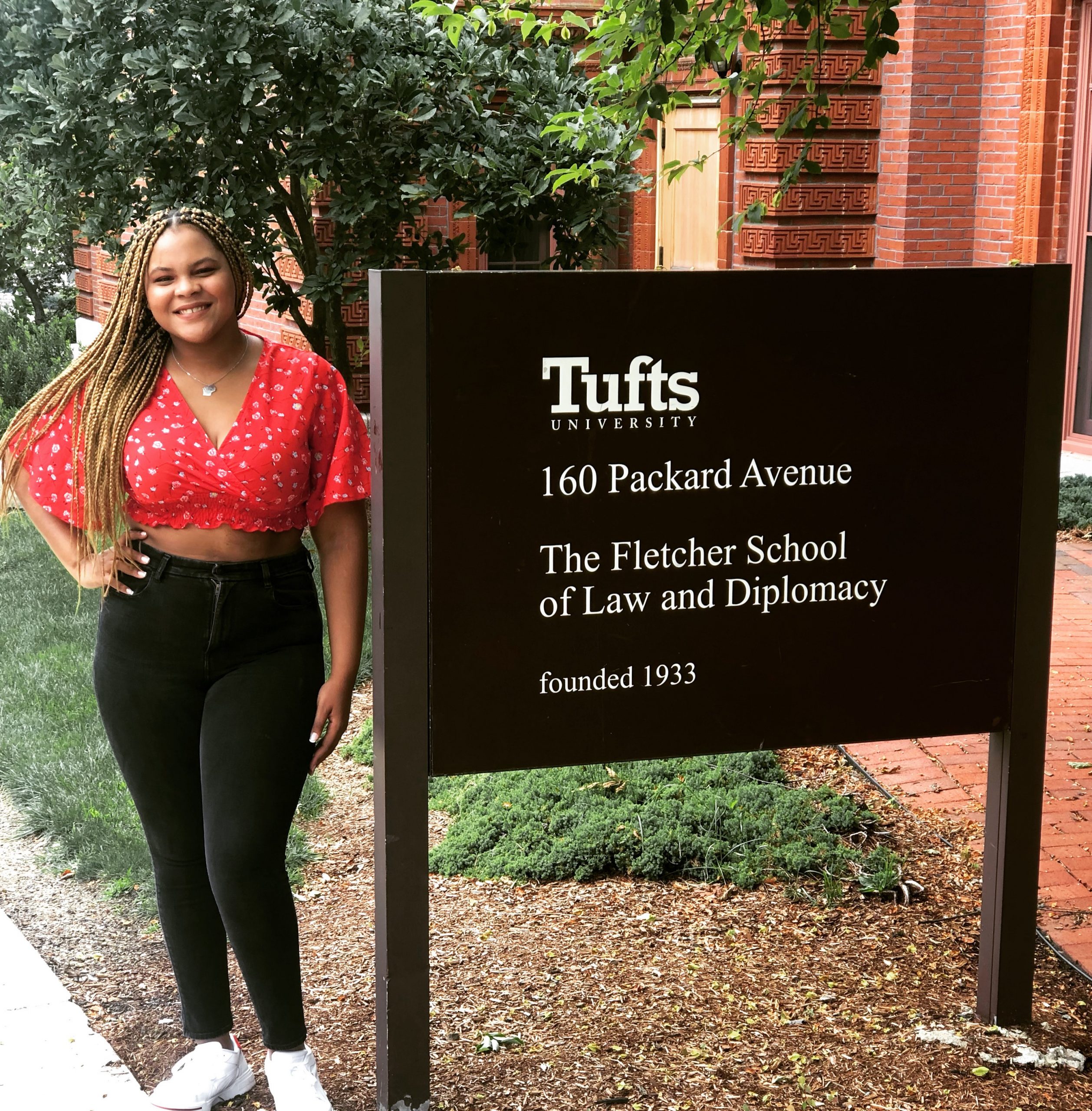 How do you guys feel having in-person classes after so long? I have to say that it has been a little overwhelming, fun, and also exhausting. The last year over Zoom had its difficulties but at the same time its advantages. However, I would not change being at the Halls of Flags for anything.
My first few weeks of my last year at Fletcher have gone by so fast. I am taking three classes at the school (Politics of Korean Peninsula, Analytical Frameworks in Public Policy, and Theories of Conflict Resolution). With Korean Politics, it's exciting to have a class in Asian politics after spending so long not researching that area of the world. I do have to say that Analytical Frameworks in Public Policy gives me some anxiety but that's normal when stepping out of your comfort zone. In Theories, we are basically just going back to the basics. I enjoy the fact that I have two classes in person and one over zoom. I am also taking a fourth class at Harvard Kennedy School (Insurgents, Rebels, Terrorist: Causes of Civil War). This class combines both of my field studies (Negotiation and Gender) which provides an incredible perspective and so much knowledge. So far we have discussed if natural resources, nationalism, gender inequality, ethnicity, and climate change are causes of civil war. I am eager to see how this class shapes my academic perspective at the end of the semester.
If you come to Fletcher you may see me at the Registrar's Office where, with another fellow student, I am a Graduate Assistant. This job has been a real highlight for me, since I get to see so many (masked) faces and answer so many questions. I also continue to be one of the co-leaders for The Ralph Bunche Society and recently joined the team for the FLAG organization. I will continue to write for the Fletcher Admissions Blog and be a Fletcher Admissions Ambassador. I also wanted to thank everyone who voted for me to be the Committee on Student Academic Programs representative. Thank you for the opportunity to represent us. As for my professional experiences outside of Fletcher, I finished my summer internship with the US Army War College for the Women, Peace, and Security program. However, I decided to continue with a fall internship with USWAC under their Theatre Army Strategy department. I just started this new opportunity and don't have a lot of feedback right now, but will give more updates in my next blogs.
Stay safe, wear your masks, and don't forget to do A LOT of self care. If you see me around, always say hi. Sending all 6 feet apart hugs.