Catching up with 2nd year MALD student Princess
Today we'll hear from Princess, also "returning" to Fletcher for her second year of study and first year in-residence.
Hello Fletcher! I am so glad to be back and in person this year. (yay!)
I had a wonderful summer in Wilmington, Delaware. I decided to take some time off all things school and work related and just spend time with my family. It was such a refreshing experience and reminded me of how important it is to simply relax. I finished a short story that I had been struggling to complete all year and hope that I can get it published soon. I also took trips to New York and Tampa to visit friends that I had not seen in ages. My summer was capped off with a very lovely birthday. I was sad to leave my family in Delaware but so excited to begin my Fletcher journey in person.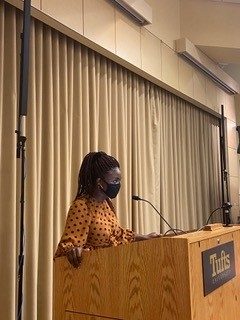 My time at Medford started off in the best way ever. I was fortunate enough to get selected to be the student speaker at first year orientation. It was such an honor to speak about my time at Fletcher and give advice to those about to begin their journeys. It was a lot of fun and I like to think of myself now as a local celebrity. I've also gotten to explore the Boston area and do as many touristy things as I can. I've been to the New England Aquarium and went on a whale watching boat tour! Additionally, I've been blessed with awesome roommates who all go to Fletcher and have made my living experience absolutely wonderful so far.
I have found the learning experience in person to be very different. It has been easier to focus in class and be truly present during lectures and discussions. I'm very excited about the classes I'm taking this semester. My gender courses have really helped me understand the importance of intersectional analysis and I am learning so much from my humanitarian action course which is a field that is relatively new to me. I am particularly fond of my civil resistance course and exploring various strategies and methods of dismantling oppressive systems. I also love that I can finally be a TA in person. Leading review sessions in an actual classroom feels so surreal to me.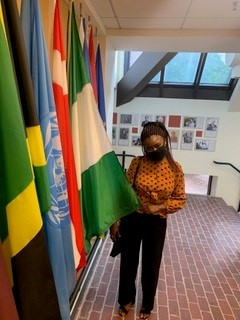 In addition to my classes, I am currently interning at the International Bureau of Education: an organization within UNESCO that is based in Geneva. I work as a communications/content management intern and it has been such an enlightening experience. I am so grateful for the supportive team that I work with. They have truly let me grow in the field through the projects that I work on and the content I create. Although it has been a little challenging to work within the Geneva time zone, I am grateful to have this opportunity. This is my second UN internship and it is my dream to get a permanent position within the UN system after Fletcher.
One of my greatest revelations this semester? I finally know how tall my friends are! I love that I can spend time with people outside of class and not in a zoom square. From going to the Fletcheros concerts (best band ever!) to attending organization meetings in person, I've found that my graduate school experience will be much richer this year. I am looking forward to working on my capstone project and preparing for my post-Fletcher career. I am truly excited for what the rest of the semester will bring.