Five-year updates: Rafael's path to the European Council on Foreign Relations
I particularly love checking in with our five-years-removed alumni. It's of course always great to learn what they've been up to, but it's also always a little jolt to be reminded how quickly time passes. Without fail, it always feels like no more than a year since we saw these folks wandering the Hall of Flags. In Rafael's case, we also saw him during Admissions Committee meetings, in our office where he worked as a Graduate Assistant, and at all manner of Admissions events. He was very busy during his Fletcher days; as you'll see, some things don't change.
Where I am now.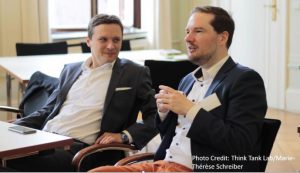 I started my current job at the European Council on Foreign Relations (ECFR) ten days before Berlin entered its first Covid lockdown in March 2020. ECFR is a pan-European think tank with offices in seven European capitals. One of the reasons why I decided to join the organization was the opportunity to travel between offices – alas Covid struck.
Early on it looked as though Europeans weren't particularly well prepared for the virus. Running counter to the very idea of the "ever closer" European Union, border closures and export bans on medical supplies characterized their first reaction. A powerful narrative began to form that the EU was failing its citizens. But as coordinator for pan-European data projects at ECFR I looked at the evidence and instead found countless instances of cross-border solidarity between governments, companies, and civic-minded Europeans. When we stopped counting after seven months in September 2020, more than 1,200 items populated our European Solidarity Tracker.
Since then, I've been explaining to European and international audiences the significance of Angela Merkel's departure from the political stage after having served for sixteen years as Germany's chancellor and the meaning of Germany's September 2021 elections, which brought to power a progressive coalition with an ambitious modernization agenda. Russia's full-scale invasion of Ukraine disrupted these plans. Instead, Olaf Scholz, the new chancellor, proclaimed the attack a "Zeitenwende" – a change of times – for Germany's foreign policy.
When international journalists or diplomats ask me today what Zeitenwende means in substantive terms, however, I can do little more than shrug. Other than the promise to spend more on defense to finally enable Germany's depleted armed forces to meet commitments made to NATO, there is not much to show for. Particularly, when measured against the country's potential and allies' calls for leadership from Berlin. Not even to speak of Scholz's timid approach to supporting Ukraine.
How I got here.
I arrived at Fletcher in the fall of 2015. The year prior I had completed internships with the German Federal Foreign Office and two parliamentarians in Germany's Bundestag. These had coincided with Russia's seizure of Crimea and initial incursion into Ukraine's eastern Donbas region as well as the emergence of the so-called Islamic State in Iraq and Syria. The parliamentarians I worked for that summer departed from party line to demand more active support for Ukraine and the Yazidi minority in the Sinjar area of northern Iraq, respectively.
I wanted to deepen my understanding of these and other conflict dynamics. But with little on offer in the area of security studies at German universities, I applied for and was awarded a Fulbright fellowship to work towards a master's degree in the United States. Fletcher seemed like a great fit for both the breadth of the MALD curriculum and its deep bench of experts for all things security, defense, and strategy. A scholarship from the MacJannet Foundation finally tipped the scale in favor of Medford over DC and other places.
It took me a while to find my way around the American academic system – the Fletcher community, from faculty, to administrators, to fellow students was incredibly supportive in this effort. Each semester I would try to take a course one wouldn't traditionally associate with security studies to broaden my horizon with, for example, quantitative and gender perspectives.
In my last semester at Fletcher, I took Francesca Giovannini's class on nuclear dilemmas. In more ways than I could have expected it turned out to be the launching pad for my post-Fletcher career: an essay I wrote for the seminar was picked up by the Bulletin of the Atomic Scientists, which then opened the door to a gig at the Center for Global Security Research (CGSR) at Lawrence Livermore National Laboratory, one of the nuclear weapons research facilities run by the US Department of Energy. I think that I was the first Fletcher graduate to join CGSR, but soon others followed – and according to their website there has been a steady stream of Fletcher students and alumni ever since. For good reason: the lab is an extraordinarily stimulating environment at the intersection of technical and policy expertise. One outcome of my time there is an article I co-authored for War on the Rocks with a computer scientist on the implications of advances in artificial intelligence for nuclear deterrence.
With nuclear threats being an integral part of Russia's campaign against Ukraine, and Europeans wondering what to do about it, I find myself spending more time again contemplating nuclear issues. At a recent conference on the topic hosted by the NATO Defense College in Rome, I was surprised – but really shouldn't have been – to run into a fellow Fletcher alum. We're everywhere!