Gautier's fall semester recap
It's time to check in with our student bloggers as the spring semester begins. Today we'll hear from Gautier, anticipating the start of his internship as part of the MATA program:
The past term has been hectic with a steep learning curve! Studying security at Fletcher proved timely given the state of international relations. The school has been an ideal bedrock to learn hard and soft skills. In this post I'll share about my Fletcher learning experience and how it enabled me to start work in security and defense in an MP's Cabinet Office in Ukraine.
Sneak Peak on Fletcher Classes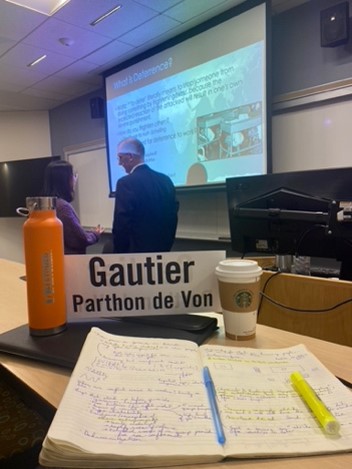 Each class I've taken has been mesmerizing and with clear practical outputs. I've learned much from the class material, case-studies, presentations, but also the way professors teach and students. Having US Military Fellows in class has proven an invaluable asset. One of the highlights of my term at Fletcher was being selected in a three-day "Red-Team Workshop" by the International Security Studies Program. I took Climate and Migration with Dr. Jacobsen, International Security with Dr. Duffy Toft, and Arts of Communications with Dr. Quartana. I was cross registered at Harvard Business School and studied War & Peace with Dr. Malhotra.
Clear Practical Outputs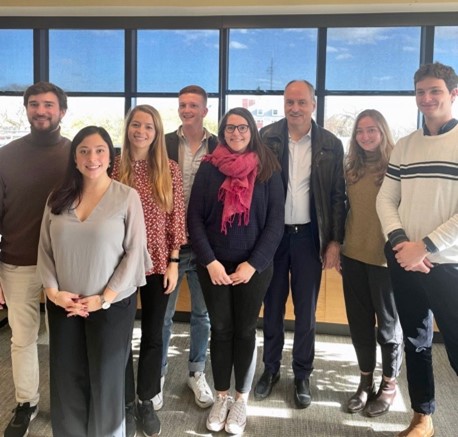 In the Master of Arts in Transatlantic Affairs (MATA), jointly awarded with the College of Europe, we are also required to complete a six-month high-level internship. In the War & Peace class at Harvard, an MP elected to the Parliament of Ukraine came to our class to share about her work in the context of Russia's invasion of her country. It was nothing planned, but we ended up discussing the possibility of an internship at her Cabinet Office. In addition, my MATA internship will start in February in Paris in security and defense, at the German Marshall Fund of the United States, an influential think tank focused on transatlantic relations.
Tackling Global Problems
It's thrilling to see many Fletcher alums in the fields of international relations and diplomacy, and particularly in security and defense. It emphasizes that the school's experience doesn't end with the last term. Within public institutions, whether bilateral or multilateral, and think tanks, the private sector or academia. The future, just like the evolving notion of international security, is being broadened in a holistic and integrative way to be more resilient and tackle the urgent transformations of the 21st century.
My next post will be later in the term and close to Commencement. I hope to secure a position at NATO or security and defense in the field of transatlantic relations after I graduate from MATA. The joint degree has been an illuminating experience and it is thanks to an exceptional staff and faculty like Dean Hurley, Professor Chang, and Professor Miller.
– Gautier Parthon de Von